Raspberry Pi でfsprotectを試す
9回目の今回は、Raspberry Piにfsprotectをインストールします。
9回目:

Raspberry Pi でfsprotectを試す
普段使っているディスクをリードオンリー(ro)として使い、 RAMディスクを併用してOSに対してリード/ライト(rw)可能なディスクと見せておきながら、再起動すると、変更内容を全てクリアするという環境を作ります。
いわゆる、Live CD的な挙動を実現します。
このようなことを実現するシェルスクリプトが、"fsprotect" というパッケージとなります。
※fsprotectを使用するためには、カーネルにaufsが組み込まれている必要があります。
fsprotectを使用した場合のメリット
SDカードはリードオンリ動作なので、SDカードの寿命を延ばすことができます。
いつでも電源オフすることができます。(shutdownコマンドで停止させる必要はありません)
※不意の停電で、ファイルシステムが破損してOSが起動しなくなる等の不具合をなくすことが出来ます。
Raspberry Piを使用したサーバ専用機を、LAN環境に設置して24時間連続動作させます。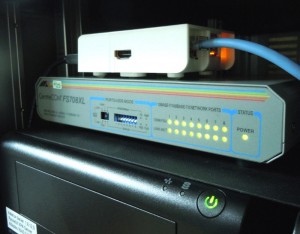 SoftEther VPN / Asterisk専用機として設置します。
 消費電力は2W程度なので、電気代も気になりません。
 ※電気代は36円/月くらいです。
fsprotectのインストール
最初に、fsprotectパッケージをインストールします。
[root@ms03 ~]# aptitude install fsprotect


initramfsイメージファイルを作成し直します。
[root@ms03 linux]# update-initramfs -c -k $(uname -r)
update-initramfs: Generating /boot/initrd.img-3.6.11-aufs+


/boot/cmdline.txt(カーネルオプションファイル)を修正して、fsprotectを起動するようにします。
変更点は、設定内容の最後に、"fsprotect" の記述を追加するだけです。
※この設定が追加されると、OS起動時に fsprotect が開始され、ファイルシステムを保護するようになります。
dwc_otg.lpm_enable=0 console=ttyAMA0,115200 kgdboc=ttyAMA0,115200 console=tty1 root=/dev/mmcblk0p2 rootfstype=ext4 elevator=deadline rootwait fsprotect


/boot/config.txtを修正して、initramfsの指定を追加します。
[root@ms03 linux]# pico /boot/config.txt
# aufs
initramfs initrd.img-3.6.11-aufs+


/bootディレクトリもリードオンリーとして、保護するようにします。

[root@ms03 ~]# pico /etc/default/fsprotect
# fsprotect configuration for protecting filesystems other than root
# Protection will only be enabled when the "fsprotect=" parameter is passed to
# the kernel
  
# This is a space separated list of mountpoints to protect.
# Only non-virtual filesystems are supported.
# DON'T add / in here. Instead use the "fsprotect=" kernel parameter
# Each entry is in the form "mountpoint" or "mountpoint=tmpfs_size"
# Example:
#       PROTECT="/boot=100M /home=2G"
# bootパーティションも保護する
PROTECT="/boot=32M"


起動時のファイルシステムはリードオンリーなので、/etc/fstabで起動時にfsckを行わないように変更します。
変更点は、/dev/mmcblk0p1 , /dev/mmcblk0p2 のfsckオプション(最後の数字の部分)を "0″ に変更します。
[root@ms03 ~]#  pico /etc/fstab
proc            /proc           proc    defaults          0       0
/dev/mmcblk0p1  /boot           vfat    defaults          0       0
/dev/mmcblk0p2  /               ext4    defaults,noatime  0       0

# a swapfile is not a swap partition, so no using swapon|off from here on, use  dphys-swapfile swap[on|off]  for that

# tmpファイルはRAMディスク上に保管する
tmpfs           /tmp            tmpfs    defaults,size=32m,noatime,mode=1777    0       0
tmpfs           /var/tmp        tmpfs    defaults,size=16m,noatime,mode=1777    0       0

# /var/logディレクトリはRAMディスク上に配置する
tmpfs           /var/log        tmpfs    defaults,size=32m,noatime,mode=0755    0       0


ここで、一旦、OSを再起動させて、aufsとfsprotectが正しく動作することを確認します。
[root@ms03 ~]# reboot


起動時のメッセージを確認しておきます。
起動時のdmesgを確認しておきます。
[root@ms03 ~]# cat /var/log/dmesg
[    0.000000] Booting Linux on physical CPU 0
[    0.000000] Initializing cgroup subsys cpu
[    0.000000] Linux version 3.6.11-aufs+ (root@ms03) (gcc version 4.6.3 (Debian 4.6.3-14+rpi1) ) #2 PREEMPT Wed Mar 13 17:53:08 JST 2013
[    0.000000] CPU: ARMv6-compatible processor [410fb767] revision 7 (ARMv7), cr=00c5387d
[    0.000000] CPU: PIPT / VIPT nonaliasing data cache, VIPT nonaliasing instruction cache
[    0.000000] Machine: BCM2708
[    0.000000] cma: CMA: reserved 16 MiB at 1dc00000
[    0.000000] Memory policy: ECC disabled, Data cache writeback
[    0.000000] On node 0 totalpages: 126976
[    0.000000] free_area_init_node: node 0, pgdat c0569e24, node_mem_map c0613000
[    0.000000]   Normal zone: 992 pages used for memmap
[    0.000000]   Normal zone: 0 pages reserved
[    0.000000]   Normal zone: 125984 pages, LIFO batch:31
[    0.000000] pcpu-alloc: s0 r0 d32768 u32768 alloc=1*32768
[    0.000000] pcpu-alloc: [0] 0
[    0.000000] Built 1 zonelists in Zone order, mobility grouping on.  Total pages: 125984
[    0.000000] Kernel command line: dma.dmachans=0x7f35 bcm2708_fb.fbwidth=1024 bcm2708_fb.fbheight=768 bcm2708.boardrev=0x100000f bcm2708.serial=0xfebafb3d smsc95xx.macaddr=B8:27:EB:BA:FB:3D sdhci-bcm2708.emmc_clock_freq=100000000 vc_mem.mem_base=0x1fa00000 vc_mem.mem_size=0x20000000  dwc_otg.lpm_enable=0 console=ttyAMA0,115200 kgdboc=ttyAMA0,115200 console=tty1 root=/dev/mmcblk0p2 rootfstype=ext4 elevator=deadline rootwait fsprotect
[    0.000000] PID hash table entries: 2048 (order: 1, 8192 bytes)
[    0.000000] Dentry cache hash table entries: 65536 (order: 6, 262144 bytes)
[    0.000000] Inode-cache hash table entries: 32768 (order: 5, 131072 bytes)
[    0.000000] Memory: 496MB = 496MB total
[    0.000000] Memory: 477320k/477320k available, 30584k reserved, 0K highmem
[    0.000000] Virtual kernel memory layout:
[    0.000000]     vector  : 0xffff0000 - 0xffff1000   (   4 kB)
[    0.000000]     fixmap  : 0xfff00000 - 0xfffe0000   ( 896 kB)
[    0.000000]     vmalloc : 0xdf800000 - 0xff000000   ( 504 MB)
[    0.000000]     lowmem  : 0xc0000000 - 0xdf000000   ( 496 MB)
[    0.000000]     modules : 0xbf000000 - 0xc0000000   (  16 MB)
[    0.000000]       .text : 0xc0008000 - 0xc0511f44   (5160 kB)
[    0.000000]       .init : 0xc0512000 - 0xc0534bd4   ( 139 kB)
[    0.000000]       .data : 0xc0536000 - 0xc056a640   ( 210 kB)
[    0.000000]        .bss : 0xc056a664 - 0xc0612dd8   ( 674 kB)
[    0.000000] NR_IRQS:330
[    0.000000] sched_clock: 32 bits at 1000kHz, resolution 1000ns, wraps every 4294967ms
[    0.000000] Console: colour dummy device 80x30
[    0.000000] console [tty1] enabled
[    0.000721] Calibrating delay loop... 996.14 BogoMIPS (lpj=4980736)
[    0.040093] pid_max: default: 32768 minimum: 301
[    0.040330] Mount-cache hash table entries: 512
[    0.040878] Initializing cgroup subsys cpuacct
[    0.040917] Initializing cgroup subsys devices
[    0.040940] Initializing cgroup subsys freezer
[    0.040960] Initializing cgroup subsys blkio
[    0.041019] CPU: Testing write buffer coherency: ok
[    0.041259] hw perfevents: enabled with v6 PMU driver, 3 counters available
[    0.041364] Setting up static identity map for 0x3c3168 - 0x3c31c4
[    0.042421] devtmpfs: initialized
[    0.049309] NET: Registered protocol family 16
[    0.054650] DMA: preallocated 4096 KiB pool for atomic coherent allocations
[    0.055430] bcm2708.uart_clock = 0
[    0.056368] hw-breakpoint: found 6 breakpoint and 1 watchpoint registers.
[    0.056404] hw-breakpoint: maximum watchpoint size is 4 bytes.
[    0.056429] mailbox: Broadcom VideoCore Mailbox driver
[    0.056494] bcm2708_vcio: mailbox at f200b880
[    0.056563] bcm_power: Broadcom power driver
[    0.056588] bcm_power_open() -> 0
[    0.056606] bcm_power_request(0, 8)
[    0.557186] bcm_mailbox_read -> 00000080, 0
[    0.557213] bcm_power_request -> 0
[    0.557231] Serial: AMBA PL011 UART driver
[    0.557333] dev:f1: ttyAMA0 at MMIO 0x20201000 (irq = 83) is a PL011 rev3
[    0.877304] console [ttyAMA0] enabled
[    0.894926] bio: create slab  at 0
[    0.899595] SCSI subsystem initialized
[    0.903505] usbcore: registered new interface driver usbfs
[    0.909117] usbcore: registered new interface driver hub
[    0.914603] usbcore: registered new device driver usb
[    0.920600] Switching to clocksource stc
[    0.924672] FS-Cache: Loaded
[    0.927729] CacheFiles: Loaded
[    0.938509] NET: Registered protocol family 2
[    0.943470] TCP established hash table entries: 16384 (order: 5, 131072 bytes)
[    0.951112] TCP bind hash table entries: 16384 (order: 4, 65536 bytes)
[    0.957835] TCP: Hash tables configured (established 16384 bind 16384)
[    0.964398] TCP: reno registered
[    0.967653] UDP hash table entries: 256 (order: 0, 4096 bytes)
[    0.973504] UDP-Lite hash table entries: 256 (order: 0, 4096 bytes)
[    0.979985] NET: Registered protocol family 1
[    0.984736] RPC: Registered named UNIX socket transport module.
[    0.990673] RPC: Registered udp transport module.
[    0.995426] RPC: Registered tcp transport module.
[    1.000135] RPC: Registered tcp NFSv4.1 backchannel transport module.
[    1.006805] Trying to unpack rootfs image as initramfs...
[    1.342611] Freeing initrd memory: 3524K
[    1.346991] bcm2708_dma: DMA manager at f2007000
[    1.351679] bcm2708_gpio: bcm2708_gpio_probe c0543dd8
[    1.357072] vc-mem: phys_addr:0x00000000 mem_base=0x1fa00000 mem_size:0x20000000(512 MiB)
[    1.365948] audit: initializing netlink socket (disabled)
[    1.371399] type=2000 audit(1.220:1): initialized
[    1.461726] VFS: Disk quotas dquot_6.5.2
[    1.465803] Dquot-cache hash table entries: 1024 (order 0, 4096 bytes)
[    1.472633] FS-Cache: Netfs nfs registered for caching
[    1.478238] NFS: Registering the id_resolver key type
[    1.483373] Key type id_resolver registered
[    1.487623] Key type id_legacy registered
[    1.491962] aufs 3.6-20130204
[    1.494998] msgmni has been set to 971
[    1.499910] Block layer SCSI generic (bsg) driver version 0.4 loaded (major 252)
[    1.507582] io scheduler noop registered
[    1.511519] io scheduler deadline registered (default)
[    1.516740] io scheduler cfq registered
[    1.533970] Console: switching to colour frame buffer device 128x48
[    1.547067] kgdb: Registered I/O driver kgdboc.
[    1.552097] vc-cma: Videocore CMA driver
[    1.556168] vc-cma: vc_cma_base      = 0x00000000
[    1.560947] vc-cma: vc_cma_size      = 0x00000000 (0 MiB)
[    1.566444] vc-cma: vc_cma_initial   = 0x00000000 (0 MiB)
[    1.578221] brd: module loaded
[    1.584886] loop: module loaded
[    1.588333] vchiq: vchiq_init_state: slot_zero = 0xddc00000, is_master = 0
[    1.595941] Loading iSCSI transport class v2.0-870.
[    1.601685] usbcore: registered new interface driver smsc95xx
[    1.607733] dwc_otg: version 3.00a 10-AUG-2012 (platform bus)
[    1.818662] Core Release: 2.80a
[    1.821891] Setting default values for core params
[    1.829628] Finished setting default values for core params
[    2.043013] Using Buffer DMA mode
[    2.049103] Periodic Transfer Interrupt Enhancement - disabled
[    2.057695] Multiprocessor Interrupt Enhancement - disabled
[    2.066043] OTG VER PARAM: 0, OTG VER FLAG: 0
[    2.073141] Dedicated Tx FIFOs mode
[    2.080348] dwc_otg: Microframe scheduler enabled
[    2.080750] dwc_otg bcm2708_usb: DWC OTG Controller
[    2.088619] dwc_otg bcm2708_usb: new USB bus registered, assigned bus number 1
[    2.098778] dwc_otg bcm2708_usb: irq 32, io mem 0x00000000
[    2.107155] Init: Port Power? op_state=1
[    2.113854] Init: Power Port (0)
[    2.120019] usb usb1: New USB device found, idVendor=1d6b, idProduct=0002
[    2.129680] usb usb1: New USB device strings: Mfr=3, Product=2, SerialNumber=1
[    2.139700] usb usb1: Product: DWC OTG Controller
[    2.147178] usb usb1: Manufacturer: Linux 3.6.11-aufs+ dwc_otg_hcd
[    2.156148] usb usb1: SerialNumber: bcm2708_usb
[    2.164098] hub 1-0:1.0: USB hub found
[    2.170703] hub 1-0:1.0: 1 port detected
[    2.177629] dwc_otg: FIQ enabled
[    2.177647] dwc_otg: NAK holdoff enabled
[    2.177663] Module dwc_common_port init
[    2.177883] Initializing USB Mass Storage driver...
[    2.185756] usbcore: registered new interface driver usb-storage
[    2.194476] USB Mass Storage support registered.
[    2.201966] usbcore: registered new interface driver libusual
[    2.210798] mousedev: PS/2 mouse device common for all mice
[    2.219885] bcm2835-cpufreq: min=700000 max=1000000 cur=1000000
[    2.228766] bcm2835-cpufreq: switching to governor powersave
[    2.237185] bcm2835-cpufreq: switching to governor powersave
[    2.245704] cpuidle: using governor ladder
[    2.253524] cpuidle: using governor menu
[    2.261218] sdhci: Secure Digital Host Controller Interface driver
[    2.271150] sdhci: Copyright(c) Pierre Ossman
[    2.279411] sdhci: Enable low-latency mode
[    2.324785] mmc0: SDHCI controller on BCM2708_Arasan [platform] using platforms DMA
[    2.336632] mmc0: BCM2708 SDHC host at 0x20300000 DMA 2 IRQ 77
[    2.348597] sdhci-pltfm: SDHCI platform and OF driver helper
[    2.363980] usbcore: registered new interface driver usbhid
[    2.373615] usbhid: USB HID core driver
[    2.383614] Indeed it is in host mode hprt0 = 00021501
[    2.395438] TCP: cubic registered
[    2.414622] Initializing XFRM netlink socket
[    2.434652] NET: Registered protocol family 17
[    2.454767] Key type dns_resolver registered
[    2.463255] VFP support v0.3: implementor 41 architecture 1 part 20 variant b rev 5
[    2.505372] registered taskstats version 1
[    2.513511] mmc0: read SD Status register (SSR) after 3 attempts
[    2.535788] Freeing init memory: 136K
[    2.548588] mmc0: new high speed SDHC card at address f33e
[    2.568723] mmcblk0: mmc0:f33e SD08G 7.32 GiB
[    2.591992]  mmcblk0: p1 p2
[    2.665491] udevd[56]: starting version 175
[    2.674733] usb 1-1: new high-speed USB device number 2 using dwc_otg
[    2.701935] Indeed it is in host mode hprt0 = 00001101
[    3.005037] usb 1-1: New USB device found, idVendor=0424, idProduct=9512
[    3.029003] usb 1-1: New USB device strings: Mfr=0, Product=0, SerialNumber=0
[    3.055549] hub 1-1:1.0: USB hub found
[    3.063505] hub 1-1:1.0: 3 ports detected
[    3.364931] usb 1-1.1: new high-speed USB device number 3 using dwc_otg
[    3.485466] usb 1-1.1: New USB device found, idVendor=0424, idProduct=ec00
[    3.507742] usb 1-1.1: New USB device strings: Mfr=0, Product=0, SerialNumber=0
[    3.537840] smsc95xx v1.0.4
[    3.619741] smsc95xx 1-1.1:1.0: eth0: register smsc95xx at usb-bcm2708_usb-1.1, smsc95xx USB 2.0 Ethernet, b8:27:eb:xx:xx:xx
[    4.289105] EXT4-fs (mmcblk0p2): mounted filesystem with ordered data mode. Opts: (null)
[    6.382548] udevd[305]: starting version 175
[    7.575537] Registered led device: led0
[   12.583819] bcm2835 ALSA card created!
[   12.637558] bcm2835 ALSA chip created!
[   12.700339] bcm2835 ALSA chip created!
[   12.748469] bcm2835 ALSA chip created!
[   12.780403] bcm2835 ALSA chip created!
[   12.815338] bcm2835 ALSA chip created!
[   12.845273] bcm2835 ALSA chip created!
[   12.871459] bcm2835 ALSA chip created!
[   18.094175] mmc0: missed completion of cmd 18 DMA (512/512 [1]/[1]) - ignoring it
[   18.105981] mmc0: DMA IRQ 6 ignored - results were reset
[   18.120505] mmc0: missed completion of cmd 18 DMA (512/512 [1]/[1]) - ignoring it
[   18.132412] mmc0: DMA IRQ 6 ignored - results were reset
[   23.021588] NET: Registered protocol family 10
[   23.022886] IPv6: ADDRCONF(NETDEV_UP): eth0: link is not ready
[   23.042937] Bridge firewalling registered
[   23.100253] device eth0 entered promiscuous mode
[   23.143781] IPv6: ADDRCONF(NETDEV_UP): br0: link is not ready
[   23.927282] IPv6: ADDRCONF(NETDEV_CHANGE): eth0: link becomes ready
[   23.928852] smsc95xx 1-1.1:1.0: eth0: link up, 100Mbps, full-duplex, lpa 0xC1E1
[   23.936603] br0: port 1(eth0) entered forwarding state
[   23.936657] br0: port 1(eth0) entered forwarding state
[   23.936803] IPv6: ADDRCONF(NETDEV_CHANGE): br0: link becomes ready
[   26.747239] bcm2835-cpufreq: switching to governor ondemand
[   26.747270] bcm2835-cpufreq: switching to governor ondemand


fsprotect動作の確認
見かけ上、リード・ライト可能なドライブとして動作しますので、パッケージのインストールや削除も、普通に行うことができます。ただし、ファイルの書き込みを伴う動作は、すべてRAMディスク上で処理されていますので、OSの再起動や電源OFFで、"すべての変更は無かったこと" になります。
試しに、動作中にいきなり電源をオフしてみましたが、OSが壊れることはなく正しく起動しました(100回程試験)
さらに、fsprotect.testファイルを作成してみます。中身が空のファイルを作成します。
再起動させて、先ほど作成したfsprotect.testファイルが消えていることを確認します。
SoftEthe VPN やAsteriskの設定変更時の対応
面倒ですが、ユーザ追加などの修正が必要になった場合は、SDカードをWindowsPCに接続して対応します。
※Raspberry Pi上では、見かけ上修正できてもリブートで元に戻りますので、修正できません。
cmdline.txt ファイルをエディタで修正します。最後に記述している fsprotect を nofsprotect に変更します。
※この変更を行うことで、通常どうりのリード・ライト可能なファイルシステムに戻ります。
以上で、「Raspberry Pi でfsprotectを試す」を終了します。